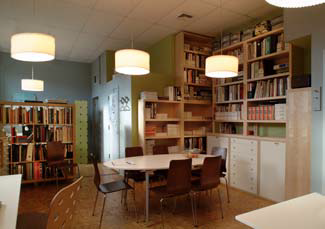 Ossining, NY — April 11th, 2006 – It only makes sense that a designer with an extensive and diverse background in the arts and design would create a studio that functions as a reading room and research library. Listening to the overwhelmed voices of her clients, Copenhagen-born interior designer Kaja Gam decided to create a sanctuary for those in need of ideas and expertise ranging from architectural design solutions to help in choosing a floor tile. Her new Ossining design studio was born.
A new design center, open to the public, and featuring vast resources that will stir your creativity. The studio features a wide array of design magazines, an architectural detail library, an extensive collection of furniture resources, a wealth of information on painted finishes and more. Homeowners can talk with Kaja as they gather ideas for creating their kitchens, bathrooms or entire whole-house restorations.
"I solve clients' design concepts with innovative ideas. I cover a lot of ground using varied styles and pieces from different periods in my work with clients. That is why my library is vast and eclectic. Visitors to my new studio will find a large selection of books, resource materials and samples covering period styles from Rococo to the '20s to craftsman cottage styles," says Gam.
A participant in HGTV's Showhouse Style series, Gam has also worked in the homes of John and Steven Stark of carpet fame; socialites Betsy von Furstenberg and Eileen Guggenheim; clothing designer Adolfo; and on assignments by other interior designers, such as Joey Horton, Penny Drue Baird, Trisha Rieger and Tony Lambert. Recently, Gam's work was featured in New York Spaces (Vol 3 No 1) in the article entitled "A Warm Welcome."
Gam's services include interior design (from one room to an entire home), custom design of cabinetry and furniture, period correct design and restoration, design consultancy and project management. Gam's new studio opens Thursday, May 18th, with an open house at 6 p.m. and can be found at 125 Main Street, Ossining, New York.
For additional information about Kaja Gam,to arrange an interview, or request a digital photo call 914-923-2393.